About Primary Immunodeficiency (PI) Disease
Patients with PI are at risk of infections and further complications
PI is a class of inherited genetic disorders that causes an individual to have a deficient or absent immune system due to either a lack of necessary antibodies or a failure of these antibodies to function properly.

PI patients are more vulnerable to infections and more likely to suffer complications from these infections. As patients suffering from PI lack a properly functioning immune system, they typically receive monthly, outpatient infusions of intravenous immunoglobulin (IVIG) therapy. Without this exogenous antibody immune support, these patients would be susceptible to a wide variety of infectious diseases.
PI has an estimated prevalence of 1:1200 in the United States, or approximately 250,000 people. According to the World Health Organization, there are over 450 different presentations of PI.
The 10 warning signs of primary immunodeficiency1
1
Four or more new ear infections within 1 year
2
Two or more serious sinus infections within 1 year
3
Two or more months on antibiotics with little effect
4
Two or more pneumonias within 1 year
5
Four or more new ear infections within 1 year
6
Recurrent, deep skin or organ abscesses
7
Persistent thrush in mouth or fungal infection on skin
8
Need for intravenous antibiotics to clear infections
9
Two or more deep-seated infections, including septicemia
10
A family history of PI
Implications for patients with PI
2018

Immune Deficiency Foundation (IDF)

National Patient Survey
of respondents reported having asthma in the past 12 months; 11% reported having COPD
of PI patients reported they suffer from chronic lung conditions in the past 12 months
of PI patients report lung infections and other infections in the prior 12 months
of PI patients reported being hospitalized in the prior 12 months
One infection is one too many—for many PI patients, every serious infection causes irreparable damage
Risk factors for infection in PI
Leading the way with innovative immune globulin products
ADMA Biologics is an end-to-end commercial biopharmaceutical company leading a new age of manufacturing, marketing, and commercializing specialty plasma-derived products for the prevention and treatment of infectious diseases in the immune compromised and other patients at risk for certain infections. Our devotion to these underserved populations fuels us, and our hands-on approach to production and development sets us apart.
With three FDA-licensed approved products, including ASCENIV™ (Immune Globulin Intravenous, Human – slra), BIVIGAM® (Immune Globulin Intravenous, Human), and NABI-HB® (Hepatitis B Immune Globulin, Human), ADMA's mission is to continue to successfully develop and commercialize plasma-derived, human immune globulins targeted to specific patient populations for the treatment and prevention of certain infectious diseases and management of immune compromised patient populations.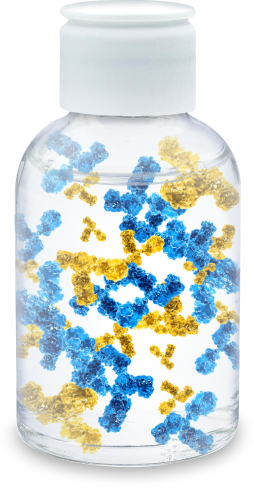 Recurrent pulmonary infections
Excessive use of antibiotics
ADMA is a champion for the PI patient

Through tailored plasma pool compositions, we pledge to continue developing therapies that make a difference to PI patients. We remain committed to doing everything we can to meet their treatment needs.
COPD=chronic obstructive pulmonary disease.
Reference:
McCusker C, Upton J, Warrington R. Primary immunodeficiency. Allergy Asthma Clin Immunol. 2018;14(suppl 2):61. doi:10.1186/s13223-018-029.